As we exit summer, it's a good reminder that the year doesn't have to strictly revolve around the sunny months. The reliability of a clear view is overrated anyway. Bring on the temperamental forecast, we say! And with it, riskier art, bolder choices, and big swings from our local creatives! Here are the events that will have us out and about this month, weather report be damned.
*Cover image: Ragmop Theatre's UNDERBELLY, part of the Vancouver Fringe

Vancouver
By Transit: Gallery Gachet – From the Main and Terminal Skytrain Station, take the #3 Main/To Waterfront Station bus to Carral Street and Hastings
Drawing parallels between the North American buffalo population and the Indigenous communities of Turtle Island, artist Morgan Possberg presents her striking connections across an amalgamation of mediums. Sonic experimentation, assemblage, plant taxidermy- each expression demonstrates a more experiential and sensorial way of reflecting than the purely visual/semiotic tradition. With the visual elements deemphasized, Possberg gives her audience a deeper connection to emotion while looking back on how flora, fauna, and people were, before colonization came.
August 4 – September 16, 2023
By Transit: 500-block Columbia St, Chinatown – From Waterfront station, take the #19 Kingsway/To Metrotown Station bus to Keefer and Main Street.
A free two-day outdoor festival, Light Up Chinatown puts the spotlight on one of Vancouver's most vibrant communities. Featuring live music and performers, this yearly event is a fantastic family-friendly outing. Be sure to arrive hungry, as some of the area's favourite food trucks will be on the scene!
September 9 – 10, 2023
By Transit: With Various Venues, you can easily plan your trip to each address with the TransLink Trip Planner
Always on the cutting edge, Fringe returns for another season of envelope-pushing (and, in some cases, shoving) theatre. With 85+ shows to attend, there's a wealth of different ways to be moved, whether it's a musical about the perils of attending brunch, a workshop with a "death expert" where attendees will learn precisely how they'll meet their fates, or the chronicles of an actor faced with having to play Harvey Weinstein in a musical biography (co-starring a puppet).
You know, the usual stuff.
September 7 – 17, 2023
By Transit: Gallery Jones – From Main Street and Broadway, you can take the #3 Main/To Waterfront bus to 2nd Ave, it's about a 3-minute walk from there
Jen Mann dives into the culture of celebrity worship and constructed social media personas, building on the veneers that exist there. The title is a play on the malleable nature of self in the digital age. "Now here" and "Nowhere" are two sides of the same coin. Either you're present in your real life-life, or you're projecting the ambiguous essence of your life. While it may seem like a stoic and introverted conversation to have, Mann's paintings externalize the dialogue with a keen sense of irony and a vibrant flair. That tonal punctuation underlines how silly the personas we put on for ourselves can be.
September 9 – October 7, 2023
Burnaby
By Transit: Burnaby Art Gallery – From Metrotown Station, take the #144 SFU bus to Rowan Ave, it's a 5-minute walk from there!
Marking newly acquired pieces to the Burnaby Art Gallery permanent collection, Tending Otherworlds begins at the intersection between history and desire. Featuring pieces made on paper (as BAG is the only public art museum in Canada dedicated to works of art on paper), this exhibition is comprised of works that explore notions of queerness and finding the space to thrive while being labelled as "other."
July 14 – September 24, 2023
By Transit: Deer Lake Gallery – From Metrotown Station, take the #144 SFU bus to Rowan Ave, it's a 10-minute walk from there!
A showcase of both traditional photography and woven photography, brothers Khim Mata Hipol and Karl Mata Hipol present their journey of continuous learning about their new homeland. Having immigrated to Canada from the Philippines in 2015, the two artists express how arriving in a country with its identity in flux (be it through overdue reconciliation or the clinging to traditional colonial values) has affected both their creative processes and their senses of self.
August 26 – October 1, 2023
Whistler
By Transit: Maury Young Arts Centre – There are several shuttles you can take to Whistler from Vancouver! You can visit the Tourism Whistler page here to find a reliable option for where you're located.
What other show can you return home from with a pocket full of artwork? The Teeny Tiny Art Show is the biggest (and smallest) art exhibit in town! With 200+ original works by 80+ local artists on display, you'd think a show with those numbers would be held in a vaulting warehouse, but with each piece being no bigger than 3″ x 3″, they fit cozily into the Gallery at the Maury Young Arts Centre. This community favourite event returns to show off all the creative inspiration that can come from small spaces. It's always surprising to see how each artist works within firm boundaries.
Editor's note: is it bothering anybody else that that one painting is crooked?
August 30 – September 30
By Transit: Audain Art Museum – There are several shuttles you can take to Whistler from Vancouver! You can visit the Tourism Whistler page here to find a reliable option for where you're located.
Finding a striking sense of awe in the force of Mother Nature, Manabu Ikeda creates pieces that act as warnings for environmental disaster. With that harsh reality, there are also messages of hope regarding humankind's natural resilience. The piece shown here, "Rebirth," is a large-scale drawing depicting the abrupt collision between humans and nature and the process of regeneration that happens after. "Flowers from the Wreckage" is Ikeda's first major solo exhibition in North America and will feature over sixty works from national and international public, private and corporate collections.
June 24 – October 9, 2023
Langley
By Transit: The Langley Events Centre – From Surrey Central Station, take the #501 Langley Centre bus to 200 St and 80th Ave. It's right there!
One of our favourite new Langley traditions, the Pow Wow is an immersive celebration of Indigenous culture. Live dancers, drummers & singers, artisan vendors, and food, it's a three-day festival with something for everyone. A fantastic family-friendly day trip, it's an opportunity to learn, engage, and have fun!
PS- We're giving away a Pow Wow staycation package! Enter to win it here.
September 15 – 17, 2023
Surrey
By Transit: Surrey Art Gallery – From the Surrey Central Skytrain station, you can take the R1 Newton Exchange bus to King George Blvd and 88th Ave. It's about a ten-minute walk from there!
The newest immersive video installation at the Surrey Art Gallery puts viewers into the POV of a wandering bee. Journeying across the prairies in search of an elusive wild rose, our fuzzy hero takes part in a sprawling quest based on instinct. Videographers Alana Bartol and Bryce Krynski also give visitors a further sensory experience with the accompanying scents of prairie grass and wildflowers.
August 19 – December 4, 2023
By Transit: Surrey Art Gallery – From the Surrey Central Skytrain station, you can take the R1 Newton Exchange bus to King George Blvd and 88th Ave. It's about a ten-minute walk from there!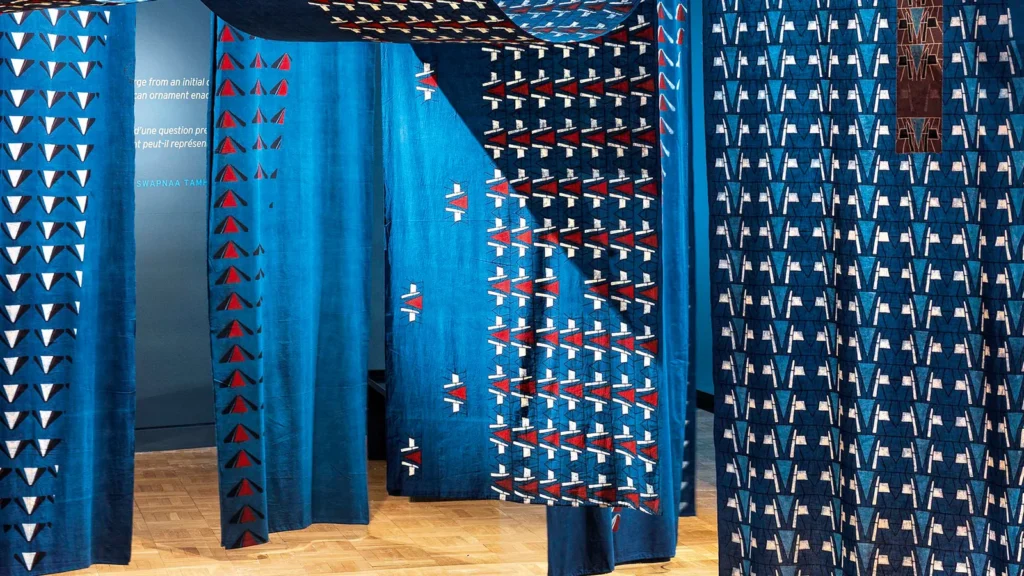 Transforming each installation space with her work, Swapnaa Tamhane creates textile art pieces that give each wall an impressive amount of depth. Separated into two parts, one featuring fabric pieces arranged in architectural forms, the other a collection of illustrations done on deconstructed paper fabric that has then been reformed, each segment sees Tamhane exploring the different moments in India's artisanal histories related to decolonization and freedom.
September 23 – November 26, 2023
Vancouver's North Shore
By Transit: Museum of North Vancouver – From the Lonsdale Quay Seabus terminal, it's only a 3-minute walk
MoNoVa has quickly become one of the best and most engaging local places to trace the lineage of local history, so it's no surprise their September calendar celebrating our Indigenous community is so robust. Across the month, visitors can join in art workshops and engage in dialogue via a speaker series with prominent Indigenous voices. Then on on September 30, the National Day for Truth and Reconciliation in Canada, the museum invites its guests to honour the children who never returned home and the survivors of residential schools with hands-on activities designed to inspire reflection and meaningful dialogue for guests of all ages.
September 1 – 30, 2023
By Transit: Griffin Art projects –  From Lonsdale Quay, you can take the R2 Park Royal bus to Marine Dr at Pemberton Ave. It's only about a 10-minute walk towards the water from there!
Using the intersection of visual art, fashion and textiles as a jumping-off point, SHIFT dives into the ecology of what we wear. The identities we associate with clothing, the fabrics used in traditional ceremony, and how they each affect the bigger picture of excess waste and the climate crisis, this exhibition takes a forward-facing look at how fashion affects our life on a micro and macro level. The collection spans a variety of artists from various mediums that curator Lisa Baldissera has assembled to tackle this timely subject matter.
September 16 – December 10, 2023
New Westminster
By Transit: New Media Gallery – Take the Expo Line Skytrain. toNew Westminster Station, the Anvil Centre is just across the street!
We don't know a ton yet about this exhibit just yet, but with the pedigree of shows NMG puts on, it's well worth putting in your calendar. As the gallery's exhibitions typically do, Measure features a group of artists all playing on a similar theme, in this case, measurement. Whether it's time, movement, space, or celestial bodies, each international participant uses mixed media to show how one measurement can affect another. 
September 23 – December, 2023
By Transit: Anvil Centre: Community Art Gallery – Take the Expo Line Skytrain to New Westminster Station, it's a short walk to the Anvil Centre from there.
Around the corner from the New Media Gallery in the Anvil Centre, this community gallery is always a reliable spot to discover local artists! A joint show between artists Molly Gray and Nancy Whiteside, both artists reflect on the inspiring fauna that calls the West Coast home. It's always fascinating to see the different approaches to the same subject that can come with shows like this.
July 31 – September 20, 2023
To easily plan the route for your next artistic outing, you can use the TransLink Trip Planner.
The post September Arts and Culture Events  appeared first on West Coast Curated.