The atmospheric veil of fall may have descended on Metro Vancouver and Whistler, But there are still plenty of bright cultural happenings to light the way through the fog! Put the carefree events of summer behind you, and let's dig into the more angsty and exciting inspirations that happen when the nights grow long.
Right this way!
*Cover Image: Alice Clair showcasing work at Braid St. Studios, as part of the New Westminster Cultural Crawl
Vancouver
By Transit: Gallery Jones – From Main Street and Broadway, you can take the #3 Main/To Waterfront bus to 2nd Ave, it's about a 3-minute walk from there
Jen Mann dives into the culture of celebrity worship and constructed social media personas, building on the veneers that exist there. The title is a play on the malleable nature of self in the digital age. "Now here" and "Nowhere" are two sides of the same coin. Either you're present in your real life-life, or you're projecting the ambiguous essence of your life. While it may seem like a stoic and introverted conversation to have, Mann's paintings externalize the dialogue with a keen sense of irony and a vibrant flair. That tonal punctuation underlines how silly the personas we put on for ourselves can be.
September 9 – October 7, 2023
By Transit: Pendulum Gallery – From Vancouver City Centre Canada Line station, it's a short walk West down Georgia Street!
Arts Umbrella presents a wide-ranging exhibition of painting, sculpture, photography, and print media by many of Canada's leading artists. Held annually at Pendulum Gallery since 2003, the exhibition is a preview of the works to be auctioned at the 41st edition of Splash Art Auction on October 21, taking place at The Fairmont Hotel Vancouver and broadcast online to reach art enthusiasts across Canada and around the world.
The 2023 Splash Collection spotlights close to 100 artworks generously donated by established and emerging Canadian artists including Rebecca Belmore, Bobbie Burgers, Edward Burtynsky, Dana Claxton, Stan Douglas, James Harry (Nexw'Kalus) and Lauren Brevner, Russna Kaur, and Wanda Koop, among others. The Preview Exhibition also offers the public the opportunity to place bids on works from this dynamic and diverse collection.
September 25 – October 19, 2023
By Transit: Paul Kyle Gallery – From Main Street/Science World Skytrain Station, take the #19 Kingsway/To Metrotown bus to Switchmen Street. It's a short walk East from there.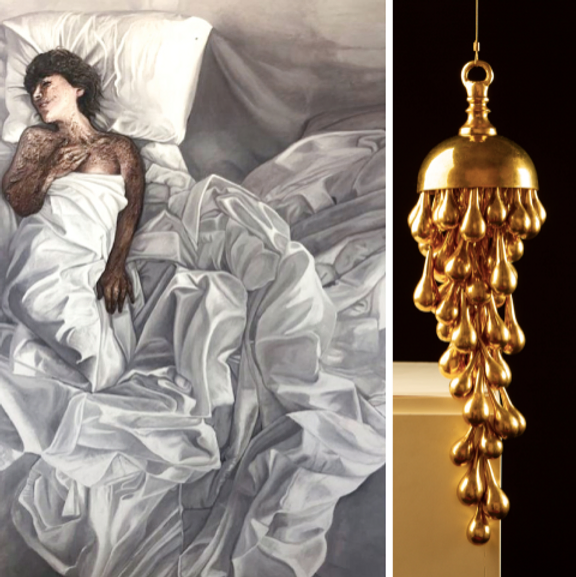 Reshaping Silence is an odyssey celebrating the talents of two Iranian female artists, Marzieh A. Fakhr and Mahdieh Raeisi. The history of art in Iran is a tale of resilience and transformation, rooted in centuries of cultural exchange and artistic exploration. It is a narrative that has seen the fusion of indigenous Iranian traditions with global influences, resulting in a unique and significant artistic heritage. This exhibition unfolds as a poetic embodiment of the timeless creative spirit, transcending political narratives, dissolving cultural divides, and defying geographic boundaries. 
October 7 – November 4, 2023
By Transit: Tangible Interaction – From Waterfront Station, take the #20 Victoria bus to Hastings and Commercial. It's only a 5-minute walk from there.
Get into the spooky season with this decidedly CURSED art event…You can join 50+ artists looking into the darkness of the night and dredging up what horrific inspirations live there (but you know, in postcard form). Free to attend, and costumes encouraged- this is going to be a great show to get into the Halloween spirit!
October 27 – 28, 2023
Burnaby
By Transit: Deer Lake Gallery- From Metrotown Station, take the #144 SFU bus to Rowan Ave, it's a 5-minute walk from there!
Allison Chow is an artist with a social practice that often draws on her experience as an immigrant growing up in Burnaby. Inspired by the wisdom of somatic therapies, Chow is drawn to the ideas of embodiment. This body of work will explore how art might be a mechanism for collective visioning and being present in a pluralistic society.
"Art has a powerful role in the collaborative healing and visioning in a community. The three most important things I want to share are hope, imagination and power – in which we all have the chance to re-imagine and expand our models of community and the power to access wisdom generated with and by the people that we are bound to". – Allison Chow 
October 7 – November 12, 2023
By Transit: Shadbolt Centre for the Arts – From Metrotown Station, take the #144 SFU bus to Rowan Ave, it's a 5-minute walk from there!
The Shadbolt Centre presents an evening with renowned Master Artist Robert Davidson, which includes a screening of the film, Haida Modern. Documenting his life and legacy, attendees will get an intimate look at Davidson's process, inspiration, and working through a time of cultural transition. Followed by a Q&A session, reception and book signing, you'll be able to meet the artist and hear his personal stories. Tickets from $15 are now sale!
October 13, 2023
Whistler
By Transit: Audain Art Museum – There are several shuttles you can take to Whistler from Vancouver! You can visit the Tourism Whistler page here to find a reliable option for where you're located.
With this current collection at the Whistler gallery, Bubas invites viewers to contemplate the hidden aspects of nature and human experience. Her series, Studies of Women in Landscapes, features enigmatic photographs of women in remote outdoor settings inspired by moments in modernist cinema. Each image presents solitary figures within seemingly idyllic and apocalyptic settings extending from Canada to Iceland. The interplay between nature and culture comes alive through the carefully selected haute couture-inspired clothing worn by her models that echo the landscape's tone and subtly contrast surrounding flora.
September 23 – January 29, 2024
By Transit: Various Whistler galleries- There are several shuttles you can take to Whistler from Vancouver! You can visit the Tourism Whistler page here to find a reliable option for where you're located.
Explore Whistler's bustling gallery scene while sampling hors d'oeuvres and wines from BC wineries every Friday night in October. Each week, four public and private galleries offer a new taste of Whistler's eclectic cultural mix featuring local, regional, and international artists, and interactive art experiences.
Every Friday in October 2023
Langley
By Transit: Swallowfield Farm –  From Surrey Central Station, take the #501 Langley Centre bus to Langley Centre, transfer to the #562 Walnut Grove via TWU bus and exit at 96 Ave and Glover Road. From there, you'll likely have to take a cab or an Uber a little bit further- it's not too far though!
Michaela Bridgemohan's new exhibition soot stain on the pillowcase gathers their sculpture, textile, video and photography in an immersive installation at Swallowfield Farm. Explorations of what it means to belong, adapt and make home as a person existing between racial identities are invoked in domestic space. This exhibition is Fort Gallery's second pop-up exhibition since its transition to a mobile artist-run-centre.
October 13 – 22, 2023
Surrey
By Transit: Surrey Art Gallery – From the Surrey Central Skytrain station, you can take the R1 Newton Exchange bus to King George Blvd and 88th Ave. It's about a ten-minute walk from there!
The newest immersive video installation at the Surrey Art Gallery puts viewers into the POV of a wandering bee. Journeying across the prairies in search of an elusive wild rose, our fuzzy hero takes part in a sprawling quest based on instinct. Videographers Alana Bartol and Bryce Krynski also give visitors a further sensory experience with the accompanying scents of prairie grass and wildflowers.
August 19 – December 4, 2023
By Transit: Surrey Art Gallery – From the Surrey Central Skytrain station, you can take the R1 Newton Exchange bus to King George Blvd and 88th Ave. It's about a ten-minute walk from there!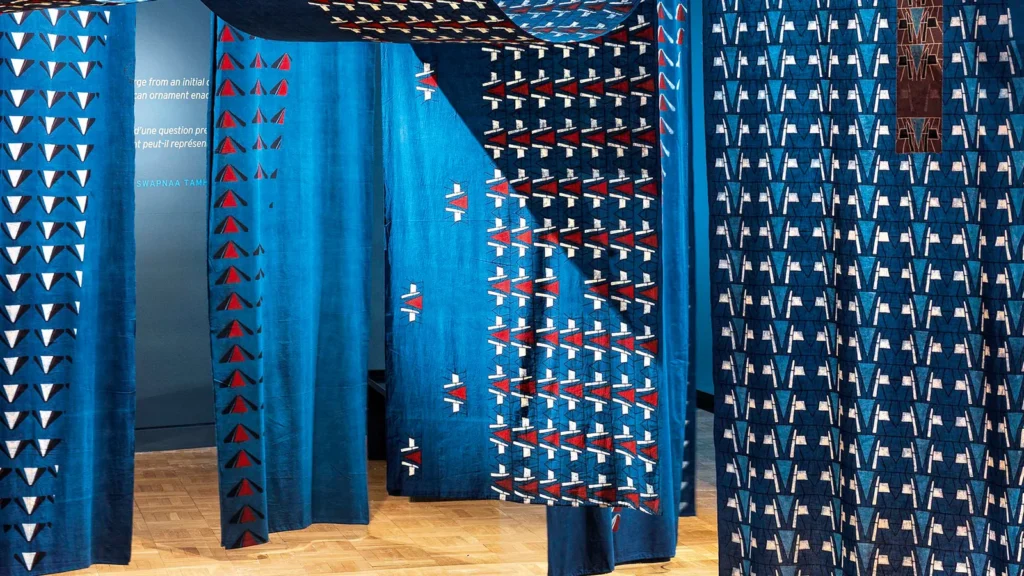 Transforming each installation space with her work, Swapnaa Tamhane creates textile art pieces that give each wall an impressive amount of depth. Separated into two parts, one featuring fabric pieces arranged in architectural forms, the other a collection of illustrations done on deconstructed paper fabric that has then been reformed, each segment sees Tamhane exploring the different moments in India's artisanal histories related to decolonization and freedom.
September 23 – November 26, 2023
By Transit: Crescent Beach Pop-up Gallery – You can take the #350 Crescent Beach bus straight to the gallery! Just hop out at Sullivan and Beecher St when you arrive at Crescent Beach.
Roxanne Charles and Chalise McCallum of Semiahmoo First Nation are the inaugural artists-in-residence for Totest Aleng: Indigenous Learning House. Both artists are working together and with members of their community to paint a yellow cedar bentwood chest for the "Honouring Our Grandmothers Healing Journey" project. The project is an opportunity for healing and is a way to honour Semiahmoo community members tragically lost and to celebrate the strength, power, and resistance that is still here. This short-term exhibition highlights works by Charles and Chalise, that were fostered through their residency.
September 16 – October 5, 2023
Vancouver's North Shore
By Transit: West Vancouver Art Museum – From the Lonsdale Quay Seabus terminal, take the R2 Park Royal bus to Park Royal, transfer to the 250 & Marine bus and ride until Marine Dr and 17 St. It's a 5-minute walk from there!
Landscape painting as a genre can transport viewers to both familiar and new places. Ross Penhall, who has lived in West Vancouver since birth, uses the genre of landscape painting to consider the effects of his natural surroundings on his corporal perceptions. Working from his own photography and plein-air studies, Penhall manipulates a view and focuses in on the natural elements that interest him most. Like the Romantic painters who preceded him, his final composition is a heavily adapted, although still recognizable, simulacrum of the original view.
October 4 – December 16, 2023
By Transit: Various North Shore locations, check the TransLink Trip Planner to easily chart your route!
The North Shore Art Crawl is returning as an in-person weekend event! Enjoy this free weekend event and connect with the art scene just across the water! In its thirteenth year running, the Crawl partners with local galleries, community centres, businesses and art schools to invite the public to celebrate the talent of local artists by viewing their works and learning about their passions. The annual event is made memorable and unique by the wide range of media displayed by the artists, including textiles, jewellery, pottery, graphic design, sculpture, painting, glass and photography.
October 13 – 15, 2023
By Transit: Griffin Art projects –  From Lonsdale Quay, you can take the R2 Park Royal bus to Marine Dr at Pemberton Ave. It's only about a 10-minute walk towards the water from there!
Using the intersection of visual art, fashion and textiles as a jumping-off point, SHIFT dives into the ecology of what we wear. The identities we associate with clothing, the fabrics used in traditional ceremony, and how they each affect the bigger picture of excess waste and the climate crisis, this exhibition takes a forward-facing look at how fashion affects our life on a micro and macro level. The collection spans a variety of artists from various mediums that curator Lisa Baldissera has assembled to tackle this timely subject matter.
September 16 – December 10, 2023
New Westminster
By Transit: New Media Gallery – Take the Expo Line Skytrain to New Westminster Station, the Anvil Centre is just across the street!
The newest exhibition at this boundary-pushing space seeks to answer how we measure things that often seem elusive. Time, light, colour, season, the movement of celestial bodies, concepts that go well beyond the jurisdiction of a ruler. With Measure, seven international artists explore these concepts and give their interpretations using science, art, and technology.
September 23 – December, 2023
By Transit: Various locations in New Westminster
The New West Cultural Crawl is an annual arts & culture festival that celebrates and exhibits the vast creative talents across New Westminster. Artist studios and venues open their doors for two days to welcome thousands of visitors from across Metro Vancouver.
This family-friendly event invites audiences of young and old to explore the city at their own pace, and check out artworks by professional and emerging artists who reside in the city.
October 14 – 15, 2023
To easily plan the route for your next artistic outing, you can use the TransLink Trip Planner.
The post October Arts and Culture Events  appeared first on West Coast Curated.