While May signals being on the brink of summer, it brings an even more pivotal moment: Mother's Day. And really, where would you be without Mom? You certainly wouldn't have your outstanding artistic taste, for one. So here are a handful of events you can chaperone her to, and show her that she's taught you well.
…It's on May 15th, by the way.
New Westminster
By Transit: Van Dop Gallery – From Braid Station, take the #128 bus to Richmond St. It's a 3-minute walk from there!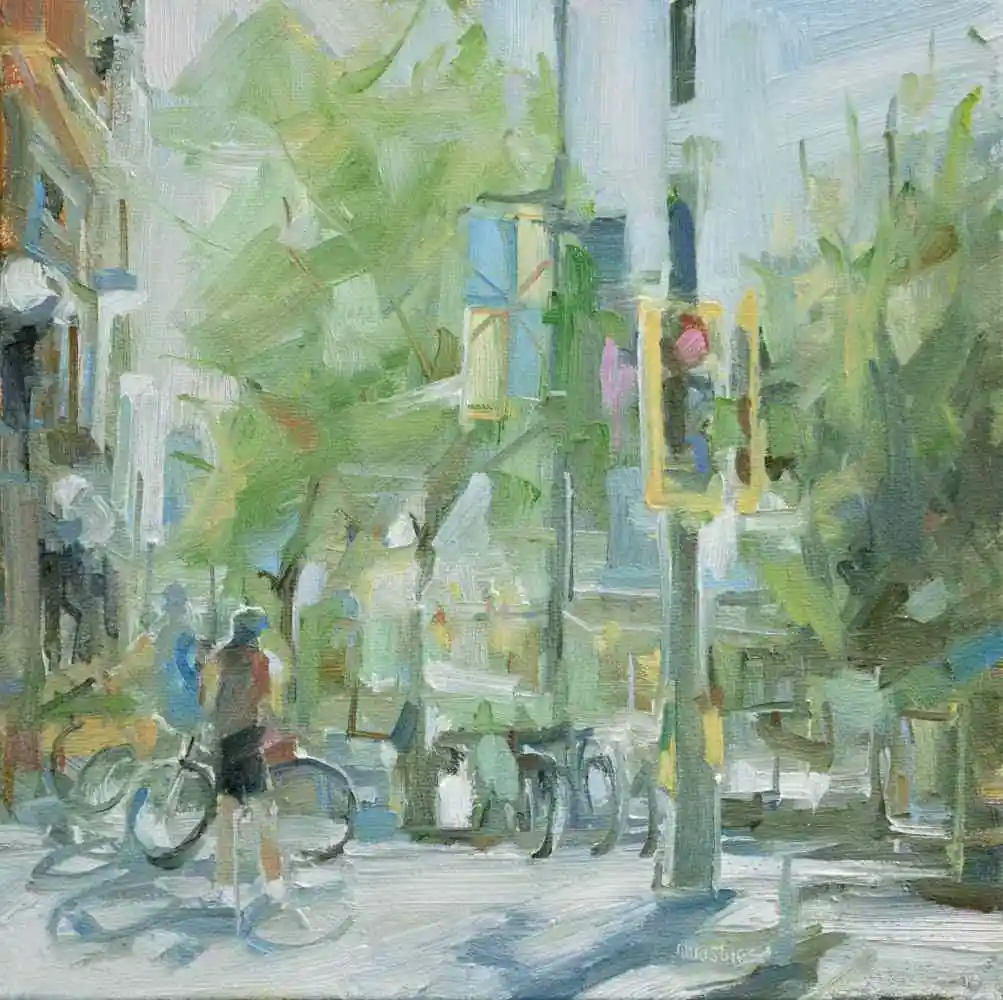 Celebrate Mother's Day weekend by visiting one of New West's most renowned boutique galleries. An annual tradition at Van Dop, Art of the Garden takes visitors through new springtime-inspired works by local painters and sculptors. A great way to ring in the season, Mom will adore the bright and refreshing motifs presented in and around the gallery's grounds.
May 13, 2023 (One day only)
By Transit: Gallery at Queen's Park- Take the Skytrain to 22nd St. Station, and catch the #155 Braid Station via Hospital bus to 1st. Street. It's about a ten-minute walk from there!
Continuing with the floral theme, this show by Marney-Rose Edge focuses on the natural romance of flowers. With roses at the centrepiece of her inspiration, Edge explores conversations about love, intimacy and beauty. With each delicately painted petal, it's as if she finds a new layer of how to look at beauty. Not too far from Van Dop Gallery, this would make for a fantastic stroll/art crawl with Mom!
May 3 – 28, 2023
Surrey
By Transit: Surrey Art Gallery- From the Surrey Central Skytrain station, you can take the R1 Newton Exchange bus to King George Blvd and 88th Ave. It's about a ten-minute walk from there!
A juried exhibition between the Surrey Art Gallery and Arts Council of Surrey, this annual exhibit showcases art in a variety of media.
The pieces selected for this show are recognized for outstanding achievement in five different categories: 1) painting; 2) drawing, mixed-media, and printmaking on paper; 3) sculptures and fibre art; 4) photography; and 5) digital, performative, and new media art. In addition to these honours, visitors can also vote for which piece receives the People's Choice award. It's certain to be an impressive collection of local expression!
May 20, 2023 (One day only)
Burnaby
By Transit: From Metrotown Station, take the #144 SFU bus to Rowan Ave, it's a 5-minute walk from there!
Using the visual language of magazines and comic books, artist Jay Cabalu uses pop culture as his canvas. In the tradition of artists like Warhol, Cabalu reappropriates separate images and brings them together in comments on consumerism, celebrity culture, and digital identity. Primarily focused on the first 15 years of his career, viewers can follow the evolution of his unmistakable style and how it led to his most recent floral series.
May 4 – 28, 2023
Langley
By Transit: Township of Langley Civic Center – From King George Skytrain Station, take the #395 Langley Centre bus to 203 St.
A collage artist inspired by mid-century abstract expressionism, GJ Gillespie brings his distinct paint-media style to Langley Township. For his now 57th show, the award-winning artist isn't feeling any less inspired lately, and this collection of pieces proves it.
May 1 – 24, 2023
Vancouver
By Transit: Vancouver Convention Centre- From Waterfront Station, you can walk East along the water and you'll be there in about 5 minutes!
Featuring artists, gallery owners, and curators from around the world, this massive art expo is always a fantastic chance to meet like-minded creatives. Whether you're looking to take an acrylic still life class, or hoping to source a new supplier for brushes, Art Vancouver has countless ways to further your artistic side.
May 4 – 7, 2023
By Transit: Firehall Arts Centre – From Waterfront Station, take the #3 bus to Main street and walk about 3 mins from there
The final show of Firehall's 2022-23 season, this one-man performance dissects the historic, political, and cultural context surrounding Hong Kong's current democratic struggles. Using multimedia, song and music, Happy Vallery was conceived by Sydney Risk Award-winning playwright, Derek Chan.
May 25– June 4, 2023
Whistler
The Collectors' Cosmos Renaissance Orchestra Concert
By Transit: Audain Art Museum – There are several shuttles you can take to Whistler from Vancouver. For instance, there is one that leaves from the River Rock Casino in Richmond, which you can get to by taking the Canada Line train to Bridgeport Station.
We wrote about the fantastic Collectors' Cosmos exhibition recently, so if you haven't visited yet, this is the perfect reason to go! Accompanying the 16th Century prints of the exhibit, a live orchestra will be playing music from the period, giving visitors a full evening of expression from what's considered the Golden Age of Flemish art.
May 13, 2023 (One day only)
Vancouver's North Shore
By Transit: Griffin Art Projects – From Lonsdale Quay, take the R2 Park Royal bus until Pemberton Ave. It's about a 10 minute walk from there towards the water.
Continuing the Per Diem series, this is the second showcase of pieces from Vancouver art collector Gerd Metzdorff. While the first show primarily featured photography, this chapter focuses on paintings and selected sculptures and prints. Assembled from over 30 years of collecting, this broad span of international artists is not only impressive on an artistic level, but it's also interesting to see how each piece fits into one individual's personal taste.
May 27 – August 27, 2023
To easily plan the route for your next artistic outing, you can use the TransLink Trip Planner.
The post May Arts and Culture Events  appeared first on West Coast Curated.