Have you already started your summer planning? Well, even if you've already booked the time off and planned your itinerary, you'll likely still have a few days to fill in the coming months. What better reason to get out and see the fruits of the local art community! Plus no safety demonstration required.
*Cover Photo – Jeremy Shaw: Phase Shifting Index.
Credit: Timo Ohler
Langley
By Transit: Swallowfield Farm – From Surrey Central Station, take the #501 Langley Centre bus to Carvolth Exchange, transfer to the #562 Langley Centre via TWU bus. Once in Fort Langley, as buses don't go directly to the farm, the best bet is to book an Uber or cab from there.
A fantastic sunny day outing idea, a visit to the contemporary barn at Swallowfiend Farm is a surefire way to view some off the beaten path art.
Hosted by Fort Gallery, this pop-up show features the mixed-media art of Dion Smith-Dokkie. Using lush and sensuous abstract drawings, textile works and immersive videos, Smith-Dokkie transforms the space into a healing escape. A response to the isolation of quarantine, and experiences of mental illness and addiction, the artist creates a calming intimacy with the pieces of this exhibition, bathing the barn's interior with glittering and kaleidoscopic light.
June 16 – 24, 2023
Burnaby
By Transit: SFU Gallery – From Waterfront Station, take the R5 SFU bus all the way up Burnaby Mountain and hop off at
the SFU Transportation Centre, Bay 2. It's a short walk from there.
As the press release for the event states, "Sensorial Visualities is less a formal exhibition than a proposition to learn together, differently." Throughout her work, artist Guadalupe Martinez champions empathy and vulnerability over the pursuit of mastery and credentials typically associated with Western academia. With this show, she employs shared experience to engage her audience and create dialogue. Movement workshops, listening experiments, experimental writing, and collaborative performance- each element promises to develop new perspectives on old facets of life.
June 13 – September 8, 2023
Whistler
By Transit: Audain Art Museum – There are several shuttles you can take to Whistler from Vancouver. For instance, there is one that leaves from the River Rock Casino in Richmond, which you can get to by taking the Canada Line train to Bridgeport Station.
Finding a striking sense of awe in the force of Mother Nature, Manabu Ikeda creates pieces that act as warnings for environmental disaster. With that harsh reality, there are also messages of hope regarding humankind's natural resilience. The piece shown here, "Rebirth," is a large-scale drawing depicting the abrupt collision between humans and nature and the process of regeneration that happens after. "Flowers from the Wreckage" is Ikeda's first major solo exhibition in North America and will feature over sixty works from national and international public, private and corporate collections.
June 24 – October 9, 2023
Vancouver
By Transit: CICA- Vancouver Centre of International Contemporary Art – Take the Expo or Canada Line to Waterfront Station, it's about an8-minute walk from there
Her first solo exhibition in Canada, Genesis Tramaine brings her disctinct visual fusion of the divine and the whimsical to Gastown. While the works were created after a deep exploration of biblical narratives, Tramaine's work achieves more than strictly religious iconography. The visual theme of eyes that frequents her work prompts viewers to lock their gaze into each piece, and in doing so, face the challenges surrounding topics like identity, spirituality, and the human experience.
June 1 – July 9, 2023
Surrey
By Transit: Surrey Art Gallery – From the Surrey Central Skytrain station, you can take the R1 Newton Exchange bus to King George Blvd and 88th Ave. It's about a ten-minute walk from there!
With a career spanning four decades, the innovative textile art of Diane Roy has developed a visual language of it's own. Taking inspiration from the biodiversity on the western coastline, her work often evokes the shapes of corals, sea anemone, urchins, and shells. "The Deep and the Shallows" presents the largest showcase of the artist's work to date, along with a new monumental tapestry piece that must be seen in person to fully grasp.
June 24 – September 3, 2023
Vancouver's North Shore
By Transit: From the Lonsdale Seabus terminal, it's only a 3-minute walk East along the water
Restaging his awe-inspiring show in Paris, The Polygon Gallery presents the North American premiere of Jeremy Shaw's largest production to date. Using antiquated 20th-century digital media, Shaw creates video futurescapes while committing to lofi canvases. The result gives viewers documentary-style narratives of what could be. Taken in across seven channels, the show's pieces contribute to a shared sense of unwinding chaos and energy that fills the gallery space.
June 23 – September 24, 2023
New Westminster
By Transit: New Media Gallery – Take the Expo Line Skytrain to New Westminster Station, it's a short walk to the Anvil Centre from there.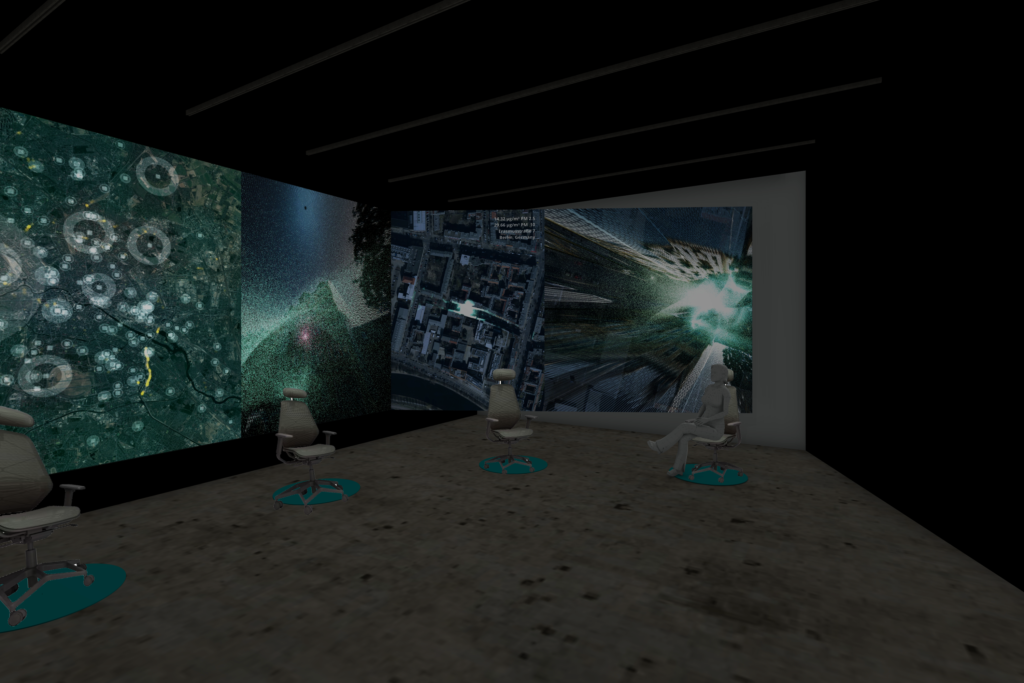 Just as they did with water in their exhibit aBIOTIC, New Media Gallery returns with a trio of international artists exploring the digital applications and inspirations of dust. All physical matter will eventually break down into its most singular form, and similarly, the artists here dissect how dust is the accumulation of everything in our world, including humans. It's a subject matter that is all at once tactile and elusive. We can't wait to see how each artist plays with these polar sensations.
June 4 – August 13, 2023
To easily plan the route for your next artistic outing, you can use the TransLink Trip Planner.
The post June Arts and Culture Events  appeared first on West Coast Curated.