If you've already visited the area pumpkin patches, made your yard look like an exhumed crypt and stocked your shelves with all manner of "fun-sized" non-perishables, where else is there left to get ghoulish? Biding your time before the 31st arrives is going to take a few creative options, so we suggest you get a little cultured with your calendar.
These local Halloween affairs take terror and elevate it to high art.
However, if you happen to witness deep red acrylic pouring down the walls, it's likely best you don't "investigate" any further.
*Cover Image by José Guadalupe Posada
Celebrate Dia de Los Muertos with music, dance and tradition, care of the Nahualli Folklore Society. Audience members will be led on a journey through Mictlan, a place for eternal rest in the Aztec civilization and mythology. This evening of performance will honour the deceased and acknowledge the fragility of our painfully fleeting existences…tickets are non-refundable.
Runs on Oct 28 only!
Welcome to the first showing of Vancouver's first fully autonomous AI artist, AiYa. This journey down the rabbit hole of Artificial Intelligence is part gallery exhibit, part escape room. In an interactive walk-through experience, Beaumont visitors will encounter chilling performances and clever riddles as they wade through the "mind" of a machine.
Runs from Oct 20 to Oct 31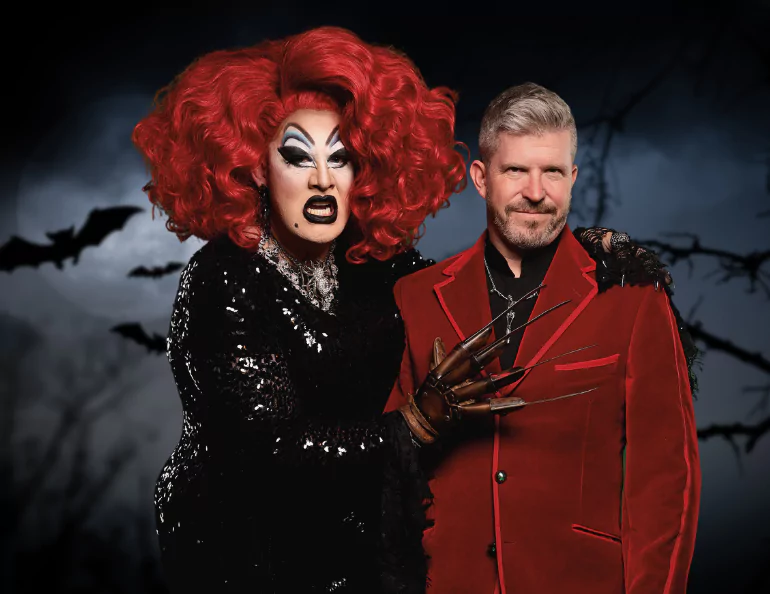 With a twisted and terrifying catalogue of music, the VSO presents a symphonic drag experience that will have you quivering from behind your theatre binoculars. Your Mistress of Ceremonies is drag/horror icon, Peaches Christ as she descends on conductor Edwin Outwater and makes him lead a company on the brink of damnation!
Between music from your favourite scary movies, guest performers will take to the stage to supply laughs and screams in equal measure. Oh, and there'll be a costume contest, so come decked out in your most deplorable duds.
One night only on Oct 25!
Does this count as an art event? You know what, this is our list, and yes it does. With over 6,000 hand-carved pumpkins glowing in the night air, you'll marvel at the level of artistry it took to make each one unique. Large-scale scenes carved across multiple pumpkins, classic art recreations, and animated projection "carvings," you'll never see everything this event has to offer in just one visit alone.
Runs until Oct 31
Everyone knows that Burnaby is the Transylvania of the Lower Mainland. So it's fitting that they should have a history of dabbling in the dark arts. This exhibition opens the portal of madness that is, the City of Burnaby permanent art collection. Wandering spirits, and restless souls, you'll meet all manner of apparitions in this ghastly Burnaby Art Gallery exhibit.
Runs until Nov 1
This paranormal tour through undoubtedly one of YVR's most haunted spaces, Roedde House Museum, runs for only ONE night (city bylaws stipulate an event as hellish as this may occur only once).
Join a professional paranormal investigation team as they reach through time and space and clasp the hand of the deceased. Visitors will be given a chance to use their tools and practice their techniques while wandering this restored and authentically furnished 1893 home of Gustav Roedde and his family.
Runs on Oct 29 only!
Another fantastic Dia de Los Muertos celebration, this Latincouver event will feature 30+ vendors, from artists to local food businesses. Take in live music, attend workshops and enjoy a tamale-it's all in honour of the people that have come before us. So live it up with a bit of mulled wine!
The best tribute to the ones who have passed is an acknowledgement of being alive, and what better way to do that than with an occasion like this?
Runs from Oct 29-30
Ok, so it may be after Halloween, but for a witch/warlock, isn't every day Halloween? This crawl between three spooky studios is sure to be the most BONE-CHILLING event of the East Side Culture Crawl. Only a brief walk between each stop, this occult-art tour promises cursed artifacts from far and wide (mainly East Van). 
Runs from Nov 17 – 20
Mictlan – Day of the Dead (Vancouver Civic Theatre Annex): Take the # 50 Waterfront Station bus along Granville Street
Art Immortal (Beaumont Studios): Take the #9 Boundary bus to Columbia Street
Symphony of Terror! (The Orpheum theatre): Take the #10 Granville bus to Nelson Street
Pumpkins after Dark Burnaby (Swangard Stadium & Central Park): Take the Expo Line Skytrain to King George Station
Spectral Visions (Burnaby Art Gallery): Take the #133 Holdom Station bus to the Burnaby City Hall bus loop
Ghostly Encounters (Roedde House Museum): Take the #19 Stanley Park bus to  Broughton Street
Latin Market (Ocean Art Works): Take the #50 South False Creek via Granville Island to Anderson street
The post Creepy and Cursed Art Events for Halloween appeared first on West Coast Curated.