March may have mostly been winter, but we're christening April as full-on spring as of now! It's fitting, as countless art events are currently flourishing across Metro Vancouver and Whistler. One of the big ones in the next month is Capture Photography Fest, but rather than mentioning it in a general entry, we've highlighted two specific events from the fest that we're excited about. So get your calendar out, and let's start circling some dates!
Burnaby
By Transit: Nikkei National Museum – From Metrotown Station, take the #119 Edmonds Station bus to Kingsway and Sperling Ave.
The Nikkei National Museum is always reliable for outstanding community events in Burnaby, and this one definitely keeps to that standard. Under the canopy of cherry trees, this Japanese cultural festival will be a fitting opening to the blossoms season. From 11 am – 5 pm, visitors can take in
live music and dance performances, tea ceremonies and kimono dressing, and finish the day with a sakura-bento (a special spring-themed lunch box). We're most looking forward to the live samurai sword-fighting show at 2:45!
April 1, 2023 (One day only)
Surrey
Masi Medicine: Joyful Nourishment
By Transit: Surrey Art Gallery – From the Surrey Central Skytrain station, you can take the R1 Newton Exchange bus to King George Blvd and 88th Ave. It's about a ten-minute walk from there!
Fusing dance with poetry, three South Asian artists explore vast concepts, like identity and nourishment through play. With their Surrey Art Gallery residency, poets Franz Seachel, and Anjalica Solomon, and dancer Alyssa Amarshi create a multimedia sensory journey for their audience. Visitors will witness moments of joy and movement alongside tranquil soundscapes that encourage slowing down and breathing with intention.
April 15 – June 18, 2023
Vancouver's North Shore
The Decisive Moment: Ema Peter
By Transit: West Vancouver Art Museum – From Lonsdale Quay Seabus Station, take the #255 Marine bus to Marine Drive and 17th St.
A showcase of work from architectural photojournalist Ema Peter, the Bulgarian-born artist shares her unique perspective on West Coast Modernism. Renowned for her collaborations with international architects and design firms, Peter's work captures the life of the towering structures of our daily routine- from figures moving through space, to a cloud tracing the sky.
April 12 – June 3, 2023
Langley
By Transit: Riverside Community Room in Fort Langley – From Surrey Central Station, take the #501 Langley Centre bus to
Carvolth Exchange, transfer to the #562 Langley Centre via TWU bus, exit at 96th Ave. and Glover Road in Fort Langley
With this reoccurring group show, Fort Langley should become a frequent stop on your culture map. Located just up the shore from the Fraser River, it's not hard to see why the participating artists are so inspired by the nature around them. The theme for this selection of pieces is "Sharing Sustainable Approaches and Practices", and each creative has thusly used non-toxic, and no environmentally invasive materials to craft their work.
April 20 -May 4, 2023
New Westminster
Vladimir Kolosov: Travel into Subconscious
By Transit: Gallery at Queen's Park – Take the Skytrain to 22nd St. Station, and catch the #155 Braid Station via Hospital bus to 1st. Street. It's about a ten-minute walk from there!
The subconscious of surrealist painter Vladimir Kolosov is a lush and vibrant place. Taking inspiration from the flowing moments of daily life, and how past, present, and future blur into one another, Kolosov creates a distinct visual language to communicate his view of reality.
April 12th – 30th, 2023
Whistler
By Transit: Audain Art Museum – There are several shuttles you can take to Whistler from Vancouver. For instance, there is one that leaves from the River Rock Casino in Richmond, which you can get to by taking the Canada Line train to Bridgeport Station.
From the gender-coded pages of old cookbooks and etiquette manuals, photographer Svava Tergesen stages revamped versions of these antiquated domestic "ideals." A featured exhibition of the  Capture Photography Festival, Ornamental Cookery uses collage, cooking, and textiles to present surreal arrangements of food and other household items.
April 1 – June 11, 2023
Vancouver
The Spiral of Spectacle: the Image Bank of Wang Guofeng
By Transit: Canton Sardine – Heading North on Main Street, take the #8 Downtown bus to Keefer Street, and walk 3 minutes East
Another Capture Fest exhibition, this collection from photographer/ artist Wang Guofeng captures striking scenes of conformity and the "silent masses" With his North Korea series Guofeng creates staged group portraits where "individuality is obliterated." While he uses computers to boost the reality of his photos, Guofeng shows us that when individuals hide in the plain sight of a group, there is a sense of visual trickery at play.
April 8 – May 27, 2023
By Transit: Slice of Life Art Gallery – From Commercial-Broadway Station, take the #20 Downtown bys to Venables St. and walk 2 minutes West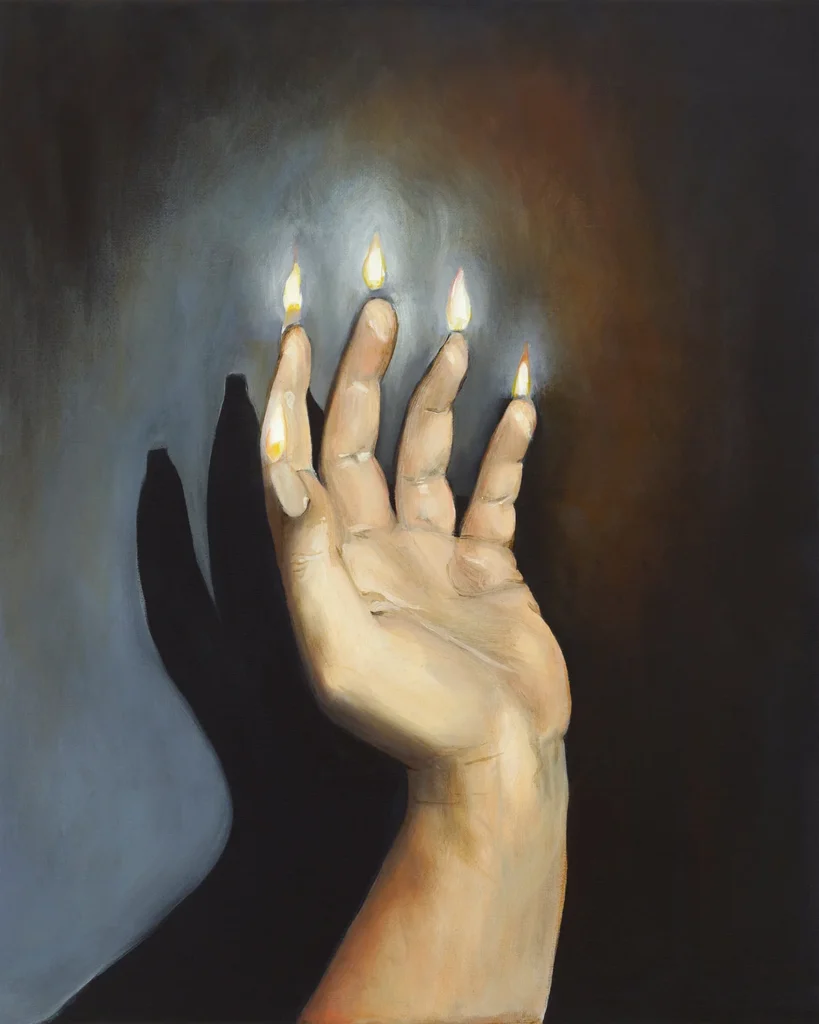 Witchcraft, the occult, and mythology. Painting Between Realms, see artist Eloise Kerr bringing visions of the next world onto her canvases. Using sigils, ritual ash and sacred soils, Kerr crafts her ingredients into something more than simply art, objects of power. For anyone prematurely yearning for the dark days of autumn, this might be an option!
April 6 – 11, 2023
To easily plan the route for your next artistic outing, you can use the TransLink Trip Planner.
The post April Arts and Culture Events  appeared first on West Coast Curated.